SGD$9.90 from third month onwards at KKBOX
(*Promo Expired)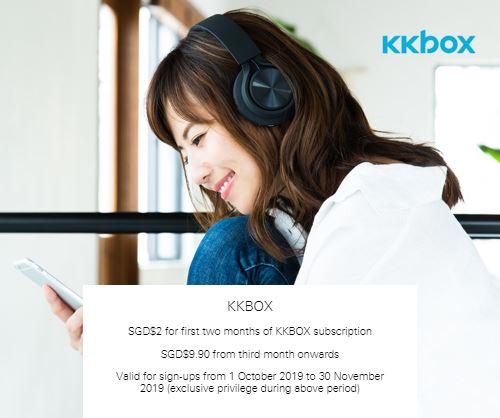 Valid Until 31 Oct 2020
KKBOX, Asia's leading music streaming service, was established in 2005 by a group of Taiwanese software programmers with a shared passion for technology and music. ... KKBOX members gain access to exclusive video, artist interviews, live concert reports, entertainment news.
Terms & Conditions
A customer who holds a HSBC credit card (except HSBC Corporate card, and HSBC Debit card) issued by HSBC Bank (Singapore) Limited ("HSBC") in Singapore (such HSBC credit card, a "Card") as a credit cardholder and whose credit card account is in good standing with HSBC over the entire Promotional Period (as defined below) and at the time of fulfilment (as determined by HSBC at its discretion) and who fulfils these terms and conditions (such customer, a "Cardholder") shall be eligible to participate in the promotion ("Promotion").
This Promotion is valid from 1 October 2019 to 31 October 2020 (both dates inclusive) (the "Promotional Period").
Payment must be made using a HSBC Credit Card.
HSBC is not the supplier of and accepts no liability for the goods and services provided by the Merchant involved in this Promotion.
The Merchant and HSBC reserve the right to vary any of these terms and conditions, or to withdraw this Promotion, at any time in their discretion without prior notice.
All information is accurate as at time of publishing or posting online.
Promotion : https://cardpromotions.hsbc.com.sg/online/kkbox1?WT.ac=SGH_CARDS_PROMO_online_KKBOX
Related Credit Card