20% off total bill at Grand Park Orchard - Mitzo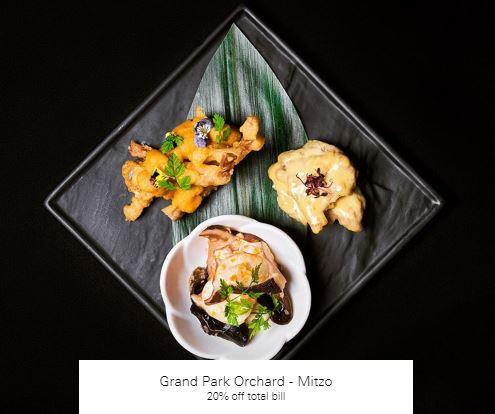 Valid Until
Mitzo Restaurant & Bar offers some of the best Chinese and Cantonese cuisine in Singapore, serving a tantalising collection of dishes that are suitable for a night out and group gatherings. It presents a wide selection of dim sum, seafood, poultry, vegetables and many other dishes, so there is something for everyone on the menu.
Located at Grand Park Orchard along Orchard Road, Mitzo provides an intimate and vibrant atmosphere to make one's dining experience relaxed and truly memorable.
Aside from their sumptuous dishes, Mitzo also serves delectable beverages such as cocktails, champagne and wines. The produce and herbs are carefully sourced and procured fresh daily. Enjoy good times with your friends while you pick your favourites from the a la carte and drinks menu.
1-for-1 Signature / Specialties Set1-for-1 Signature / Specialties Set - Valid only for dine-in. - Advance reservation is required.
Related Credit Card