Get up to S$60 worth of CapitaVouchers with your HSBC Credit Card with Singapore Airlines Holidays Anniversary Deals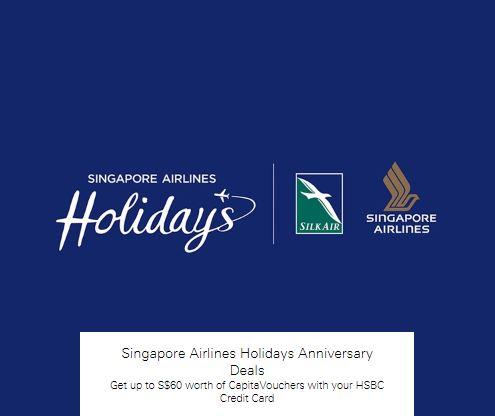 Valid Until
Singapore Airlines is the flag carrier airline of Singapore with its hub at Singapore Changi Airport. ... It has been ranked as the world's best airline by Skytrax four times and topped Travel & Leisure's best airline rankings for more than 20 years. Singapore Airlines includes many airline-related subsidiaries.
Terms & Conditions
Promotional period is from 3 January 2020 to 15 January 2020
To be eligible for the promotion booking must be made via www.holidays.singaporeair.com
HSBC is not the supplier of and accepts no liability for the goods and services provided by the merchant involved in this promotion.
The promotion mechanics, terms and conditions may be amended or supplemented by HSBC from time to time and such changes shall take effect without prior notification to nor be subject to the consent of the customer.
Promotion : https://cardpromotions.hsbc.com.sg/travel/sah?WT.ac=SGH_CARDS_PROMO_travel_Singapore%20Airlines%20Holidays%20Anniversary%20Deals
Related Credit Card