Enjoy Free Premium Membership for 2 years (worth USD120) with MyUS at U.S. eCommercemerchants at MyUS.com
(*Promo Expired)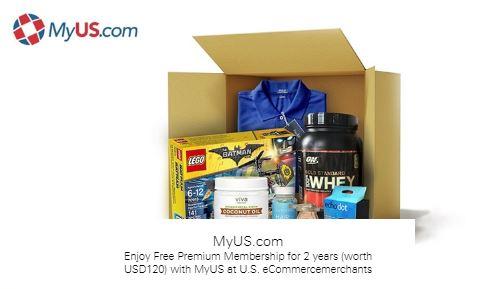 Valid Until 31 Jul 2020
Only MyUS has the resources, dedication and global experience to make shipping from the USA consistently fast, reliable and affordable. We give our members access to thousands of US online stores and take the worry out of international shipping.
Terms & Conditions
A customer who holds a HSBC Premier MasterCard credit card issued by HSBC Bank (Singapore) Limited ("HSBC") in Singapore (such HSBC credit card, a "Card") as a credit cardholder and whose credit card account is in good standing with HSBC over the entire Promotional Period (as defined below) and at the time of fulfilment (as determined by HSBC at its discretion) and who fulfils these terms and conditions (such customer, a "Cardholder") shall be eligible to participate in the promotion ("Promotion").
This Promotion is valid till 31 July 2021 (the "Promotional Period").
Promotion is open to all Mastercard cardholders who register with MyUSfor the first time.
Registration must be completed through the promotion URL: www.myus.com/welcome/mastercardpremium/ to obtain these offer benefits.
Shipping discounts apply for 2 years from date of registration when paying with a valid Mastercard and are applicable when shipping DHL, FedEx or UPS only.
Discounts are only valid on MyUS.com services and not on merchandise purchased.
This offer is not transferable and cannot be combined with other discounts or promotional codes. Void if copied, altered, transferred, purchased, or sold. Redemption and registration is subject to review and verification. Void where prohibited.
Payment must be made using a HSBC Premier MasterCard credit card.
HSBC is not the supplier of and accepts no liability for the goods and services provided by the merchant involved in this Promotion.
The Merchant, Mastercard and HSBC reserve the right to vary any of these terms and conditions, or to withdraw this Promotion, at any time in their discretion without prior notice.
All information is accurate as at time of publishing or posting online.
Promotion : https://cardpromotions.hsbc.com.sg/online/myus?WT.ac=SGH_CARDS_PROMO_online_MyUS.com
Related Credit Card