Enjoy $5 off with minimum spend of S$25 at Deliveroo
(*Promo Expired)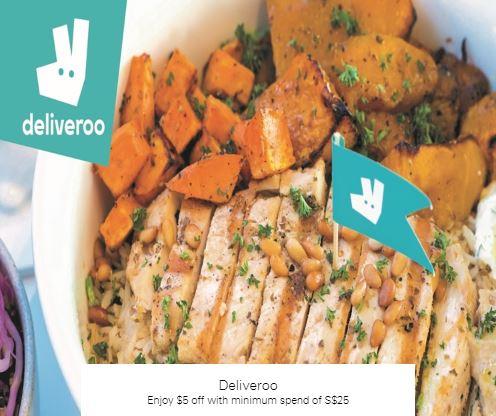 Valid Until 31 Dec 2020
Deliveroo is an online food delivery company founded in 2013 by Will Shu and Greg Orlowski. Based in London, England, it operates in two hundred cities in the United Kingdom, the Netherlands, France, Belgium, Ireland, Spain, Italy, Australia, Singapore, United Arab Emirates, Hong Kong, Kuwait, and Taiwan.
Terms & Conditions
A customer who holds a HSBC credit card (except HSBC Corporate card, and HSBC Debit card) issued by HSBC Bank (Singapore) Limited ("HSBC") in Singapore (such HSBC credit card, a "Card") as a credit cardholder and whose credit card account is in good standing with HSBC over the entire Promotional Period (as defined below) and at the time of fulfilment (as determined by HSBC at its discretion) and who fulfils these terms and conditions (such customer, a "Cardholder") shall be eligible to participate in the promotion ("Promotion").
This Promotion is valid from 1 January 2020 to 31 December 2020 (both dates inclusive) (the "Promotional Period").
The S$5 discount with a minimum spend of S$25 is limited to first 1,500 redemptions per month during the Promotional Period. Limited to one (1) redemption per Cardholder per month. Cardholder must enter the promo code "HSBC20JAN" upon checkout from 1 to 31 January 2020.
Codes are valid for orders made at deliveroo.com.sg or Deliveroo mobile application during the Promotional Period.
Codes cannot be combined with other codes and promotions, and not exchangeable for cash.
Each Code is only applicable on the price of the product and cannot be used to offset delivery fees.
Payment must be made using a HSBC Credit Card.
HSBC is not the supplier of and accepts no liability for the goods and services provided by Deliveroo involved in this Promotion.
Deliveroo and HSBC reserve the right to vary any of these terms and conditions, or to withdraw this Promotion, at any time in their discretion without prior notice.
All information is accurate as at time of publishing or posting online.
While the mechanics will stay the same, there might be changes made to the redemption cap on the codes on either a weekly or bi-weekly basis from August 2019 moving forward.
Promotion : https://cardpromotions.hsbc.com.sg/online/deliveroo?WT.ac=SGH_CARDS_PROMO_online_Deliveroo
Related Credit Card