15% off total bill at Mandarin Oriental Singapore - Melt Cafe
(*Promo Expired)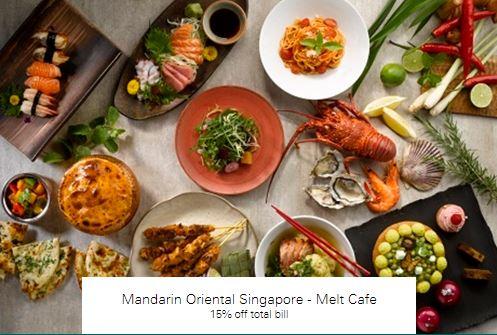 Valid Until 31 Dec 2020
Housed within Mandarin Oriental Hotel, Melt Café is a beautifully-furnished, all-day dining restaurant offering international buffet. There are several live stations serving cuisines from all over the world, be it Asian or European, making it a truly multi-cultural experience for diners. Meat lovers will want to flock the roast and carving corner. Past sundown, you can even enjoy delicious barbeque and ala carte meals at the alfresco dining area.
MUST TRIES: Menu highlights include Herbal Drunken Prawns, Japanese Sushi & Sashimi, Lobster Spring Rolls, Melt Signature Cake, Outdoor Barbecue Grill Station, Oysters & Premium Seafood, Roasted Wagyu Cuts, Royal Tandoori Selection and Sabayon in Liquid Nitrogen.
Other favourites include Royal Tandoori Selection, which sees Tandoori oven-baked chicken, mutton, prawns and fish cubes, served with raita, chutney, naan and dhal, which features tender poached farmhouse chicken breast, green vegetables, with rice cooked in chicken stock and traditional condiments.
15% off total bill- Not valid for champagne brunch.
- Advance reservation is required.
Related Credit Card