10% off flight bookings with Fiji Airways
(*Promo Expired)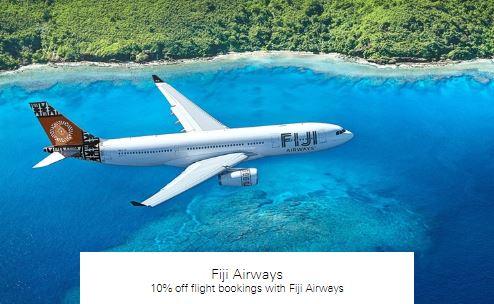 Valid Until 30 Jun 2020
For an airline that was started by an acclaimed air navigator, inventor, airline manager, plantation baron and legislator, Fiji Airways has grown into Fiji's proud flag carrier. From flying De Havilland Dragon Rapide in those days to the new Airbus 330-200 jets of today, the airline has truly come of age. It boasts a strong position within the region, and is often ranked among the region's top carriers.
In May 2012, the airline announced that it would reintroduce the name Fiji Airways to reinforce its role as the proud national airline of Fiji. Offering its customers brand new Airbus A330-200 aircraft and warm friendly Fijian service, Fiji Airways connects the islands of Fiji to the world and proudly welcomes visitors to its home.
As our airline proudly returned to its roots as Fiji Airways, we embarked on a new and exciting chapter of our story.
Terms & Conditions
Promo code must be entered in the following format HSBC Eg: HSBC438585, in order to enjoy the discount.
A customer who holds a HSBC credit card (except HSBC USD card, HSBC Corporate card, and HSBC Debit card) issued by HSBC Bank (Singapore) Limited ("HSBC") in Singapore (such HSBC credit card, a "Card") as a credit cardholder and whose credit card account is in good standing with HSBC over the entire Promotional Period (as defined below) and at the time of fulfilment (as determined by HSBC at its discretion) and who fulfils these terms and conditions (such customer, a "Cardholder") shall be eligible to participate in the promotion ("Promotion").
Other terms and conditions apply, please refer to the merchant for more details.
HSBC is not the supplier of and accepts no liability for the goods and services provided by the Merchant involved in this Promotion.
The Merchant and HSBC reserve the right to vary any of these terms and conditions, or to withdraw this Promotion, at any time in their discretion without prior notice.
All information is accurate as at time of publishing or posting online.
Promotion : https://cardpromotions.hsbc.com.sg/travel/fiji-airways?WT.ac=SGH_CARDS_PROMO_travel_Fiji%20Airways
Related Credit Card