1-for-1 Main Menu Item at Tandoor
(*Promo Expired)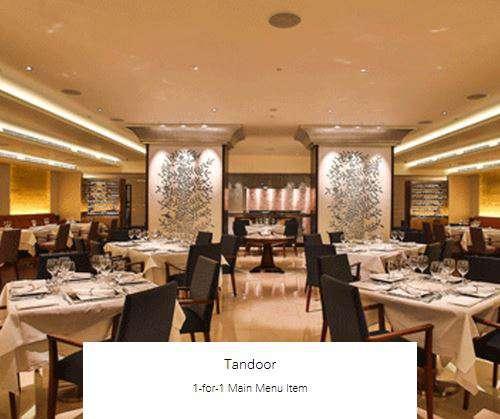 Valid Until 30 Dec 2020
Established in 1985, Tandoor, Singapore's most awarded Indian restaurant, takes diners on a journey with authentic North Indian dishes that pay homage to India's rich culinary heritage. Each dish in the gourmet menu is carefully handcrafted by a team of talented chefs using classic recipes and time honoured methods which date back in time across India's rich history. Ever conscious of our diners' palettes, some dishes use healthier preparation methods while retaining their original Indian heritage.
Contemporary yet laced with tradition, Tandoor's interior is dotted with subtle Indian motifs. Back-lit wall panels featuring Jaali (or Jali) ─ a latticed screen characteristic of Indian architecture – line two sides of the restaurant, while twin alabaster pillars house the traditional Indian craft of inlay mirrors.
Full-length windows give diners an intimate view of the kitchen where two custom-made copper tandoors (or clay ovens) stand. From the dining hall, you will be able to see our chefs at work, from making Indian bread to preparing kebabs of tandoori meats and vegetables that are served fresh to your table, presenting an inviting atmosphere where you can enjoy good food and great conversations with family, friends and clients alike.
Exclusive ENTERTAINER offer
1-for-1 Main Course
Over 1,000 1-for-1 and 25% discount dining, entertainment, lifestyle and travel deals.
For more details on how to unlock and access these 1-for-1 and 25% discount merchants' offers, click here
Related Credit Card