Earn up to 6.6% worth of cash back, air miles or points when you shop with Sephora via RebateMango
(*Promo Expired)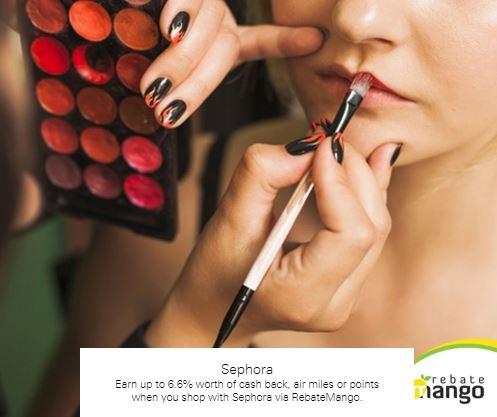 Valid Until 31 Dec 2020
A leader in prestige omni-retail, our purpose at Sephora is to create an inviting beauty shopping experience and inspire fearlessness in our community. Through our continued expertise, innovation, and entrepreneurial spirit, Sephora encourages clients to explore the universe of beauty and wellness with an unbiased approach to experiential retail.
Since 1998, Sephora has been an industry-leading champion of diversity, inclusivity, and empowerment in the U.S., guided by our longstanding company values. In 2019, Sephora announced a new tagline and manifesto, "We Belong to Something Beautiful," to reinforce its dedication to fostering belonging amongst all clients and employees and to publicly strive for a more inclusive vision for retail in the Americas. Sephora continues to give back to our communities and advance inclusion in our industry through our Sephora Stands social impact programs.
Terms & Conditions
A customer who holds a HSBC credit card (except HSBC Corporate card, and HSBC Debit card) issued by HSBC Bank (Singapore) Limited ("HSBC") in Singapore (such HSBC credit card, a "Card") as a credit cardholder and whose credit card account is in good standing with HSBC over the entire Promotional Period (as defined below) and at the time of fulfilment (as determined by HSBC at its discretion) and who fulfils these terms and conditions (such customer, a "Cardholder") shall be eligible to participate in the promotion ("Promotion").
This Promotion is valid from 1 January 2020 to 31 December 2020 (both dates inclusive) (the "Promotional Period").
This Promotion entitles Cardholders to receive rewards of a specific percentage by selected merchants* ("Rewards"). The Rewards will be credited into the Cardholders' RebateMango account. The Rewards can take form of cashback, loyalty programme points or air miles as stated by RebateMango via www.rebatemango.sg/hsbc.
To enjoy the Promotion, Cardholder has to make purchase/purchases via www.rebatemango.sg/hsbc between Promotional Period to be eligible for the Reward.
Rewards can be accumulated and will all expire one (1) year from the date of confirmed Rewards with RebateMango.
Cardholders must enable their cookies to allow their Rewards to be tracked.
Selected Rewards will be credited into your RebateMango account and the Rewards amount is dependent on the Rewards withdrawal level selected. No changes can be made upon selection.
Payment must be made using a HSBC Credit Card.
Orders that are exchanged, cancelled or refunded will not qualify for the Promotion. RebateMango's terms and conditions apply.
HSBC is not the supplier of and accepts no liability for the goods and services provided by RebateMango in this Promotion.
RebateMango and HSBC reserve the right to vary any of these terms and conditions, or to withdraw this Promotion, at any time in their discretion without prior notice.
All information is accurate as at time of publishing or posting online.
Promotion : https://cardpromotions.hsbc.com.sg/online/sephora-rebatemango?WT.ac=SGH_CARDS_PROMO_online_Sephora
Related Credit Card