50% off HSBC credit card customers' 1st month membership at JustCo
(*Promo Expired)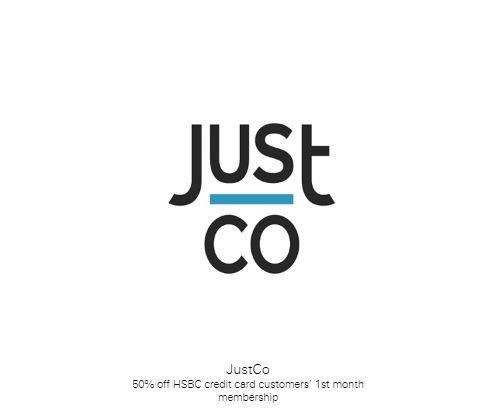 Valid Until 30 Jun 2020
Founded in 2011 and headquartered in Singapore, JustCo is Asia Pacific's leading premium flexible workspace provider. We continually disrupt the status quo and redefine collaborative working. In our communities, we connect dynamic entrepreneurs, start-ups and large corporations.
Terms & Conditions
A customer who holds a HSBC credit card (except HSBC USD card, HSBC Corporate card, and HSBC Debit card) issued by HSBC Bank (Singapore) Limited ("HSBC") in Singapore (such HSBC credit card, a "Card") as a credit cardholder and whose credit card account is in good standing with HSBC over the entire Promotional Period (as defined below) and at the time of fulfilment (as determined by HSBC at its discretion) and who fulfils these terms and conditions (such customer, a "Cardholder") shall be eligible to participate in the promotion ("Promotion").
This Promotion is valid from 17 July 2019 to 30 June 2020 (both dates inclusive) (the "Promotional Period").
"Qualifying Spend" refers to purchases charged to a HSBC Credit Card in Singapore dollars from 12 July 2019 to 30 June 2020
HSBC is not the supplier of and accepts no liability for the goods and services provided by the Merchant involved in this Promotion.
Cardholders are required to charge to their HSBC Credit Card(s) to be eligible for the Offer.
The Merchant and HSBC reserve the right to vary any of these terms and conditions, or to withdraw this Promotion, at any time in their discretion without prior notice.
All information is accurate as at time of publishing or posting online.
Offer is valid at all JustCo Singapore locations except for Verizon Innovation Community and is subject to availability.
For new customers to JustCo only.
Payment must be made through HSBC credit card.
Promotion is valid till 30 June 2020.
JustCo reserves the right to change these terms and conditions at any time without prior notice. In the event that any changes are made, the revised terms and conditions shall be posted on this webpage immediately. Please check the latest information posted herein to inform yourself of any changes.
Promotion : https://cardpromotions.hsbc.com.sg/lifestyle/justco?WT.ac=SGH_CARDS_PROMO_lifestyle_JustCo
Related Credit Card