Complimentary MyCTOS Score Report
(*Promo Expired)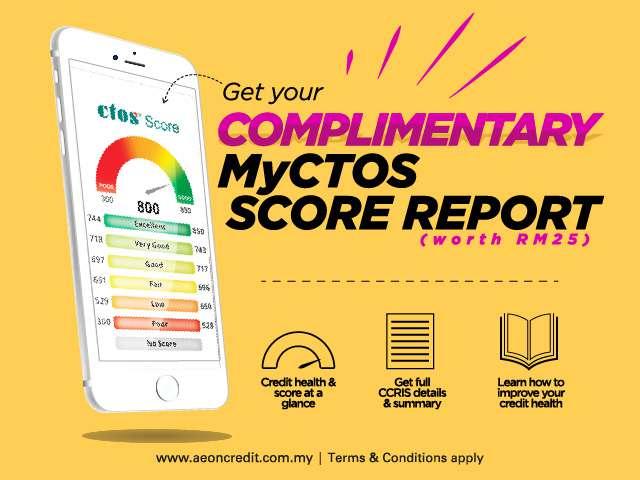 Valid Until 30 Jun 2020
AEON Credit Service Malaysia We offer a range of services including the issuance of Credit Cards, Easy Payment schemes, Personal Financing and Insurance. Enjoy up to 60% OFF with AEON credit card promotion & privileges.
We are delighted to announce that we have partnered with CTOS to help you be financially smarter today. You can now check your credit health score worth RM25 for free, compliments from us!

What is a CTOS score?
CTOS Score is a 3-digit number that represents your creditworthiness. It is an evaluation of an individual credit history and capability to repay financial obligations. The higher the score, the higher your chances of securing a loan.

What is a good CTOS score?
The general rule of thumb of a good CTOS score falls within the range of 697 - 850. Knowing that you have a good credit score can be advantageous as it gives you more confidence when applying for loans and convenience as it gets you better interest rates and speedier loan approvals.

What does your CTOS score mean?
744 - 850 : Excellent! You're viewed very favourably by lenders.
718 - 743 : Very Good! You're viewed as a prime customer.
697 -717 : Good! You're above average and viable for new credit.
651 - 696 : Fair. You're below average and less viable for credit.
529 - 650 : Low. You may face difficulties when applying for credit.
300 - 528 : Poor. Your credit applications will likely be affected.
No Score : Your score couldn't be generated due to insufficient information.
GET YOUR COMPLIMENTARY MYCTOS SCORE REPORT
Promotion: https://www.aeoncredit.com.my/promotions-detail/2521
Related Credit Card