Be it café latte, cappuccino or Americano, get your daily coffee fix at San Francisco Coffee and enjoy 15% off normal-priced items
(*Promo Expired)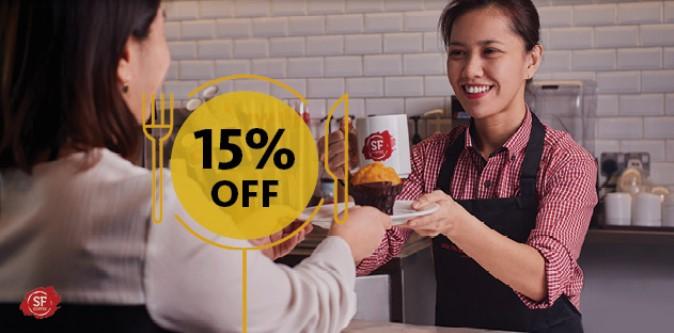 Valid Until 31 Oct 2020
In 1997, we created San Francisco Coffee with a simple, noble mission: serving coffee lovers the freshest, best cup in town. Two decades on, we're still kicking. Our secret? We aim to delight all five senses with lively surroundings, smooth music, and aromatic, delicious brews. Still curious? Then come a little closer…
We source our coffee beans from the best farms on the planet. Then our roastmaster transforms them into blends and roasts that will satisfy to the very last drop. Voila: invigoration, inspiration and joy in a cup, served piping hot or refreshingly cold.
We all have those days. The ones where you just want to strangle your boss, throw your computer out the window, and quit the entire world. SF Coffee offers you a place to soak in modern trends, re-align your mind and soul, and enjoy a nice cup of coffee…made exactly your way, of course.
Time is money and talk is cheap. We let our fast, friendly service and quality products speak for themselves. Our charming personalities will do the rest.
Terms and Conditions
---
Related Credit Card