1-for-1 Main Menu Item at HOLA! Mexico
(*Promo Expired)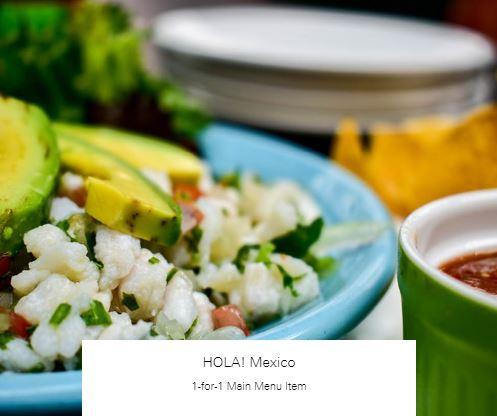 Valid Until 30 Dec 2020
Hola! Mexico is a casual dining place that offers a delightful experience with their menu featuring a variety of delicious Mexican cuisine. They carefully prepare each dish using only the best ingredients to make sure that the colour, flavour and texture are perfect to cater to every palate.
Located at Cuppage Terrace along Cuppage Road and just a few minutes away from Somerset MRT Station, Hola! Mexico is a perfect place where you and your friends can chill over your favourite beer or wine, and enjoy a wonderful meal with your family in a comfortable and vibrant atmosphere.
Exclusive ENTERTAINER offer
1-for-1 Main Menu Item
Over 1,000 1-for-1 and 25% discount dining, entertainment, lifestyle and travel deals.
For more details on how to unlock and access these 1-for-1 and 25% discount merchants' offers, click here
Related Credit Card