Sakae Sushi Promotion
(*Promo Expired)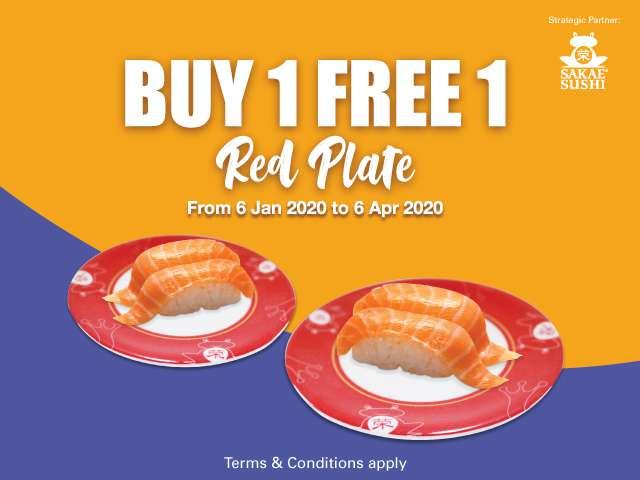 Valid Until 6 Apr 2020
Freshness matters at Sakae Sushi! A hit among Japanese food lovers for its delicious yet affordably-priced fare, this kaiten sushi-concept restaurant is making waves for the sheer freshness of its sushi. Sakae Sushi's ingredients are selected from top suppliers around the world and stringently checked to ensure total freshness, quality and nutrition. Our sushi rice also comes with added Vitamin E – the essential vitamin for great skin and a better immune system.
One of our must-try selections is the salmon sushi range. Prepared with the freshest and most premium salmon directly air-flown from the Atlantic, diners can take their pick from a mouth-watering variety that includes the classic Salmon Sushi and Sashimi, Hana Maki, Salmon Treasures and more.
Should you fancy something apart from salmon or sushi, over 250 delectable choices such as sashimi, yakimono, agemono, tempura, Japanese noodles (ramen, soba and udon), donburi, and bento await.
For unparalleled convenience, Sakae offers diners a user-friendly dining experience with its patented interactive menu ordering system.
Delectable tastes and innovative touches – truly, it all adds up to a delightful and value-for-money dining experience.
Valid from 6th January 2020 to 6th April 2020 (both dates inclusive).
Payment must be made with AEON Card.
Eligible cardholders are required to purchase 1 (one) Red Plate in order to enjoy 1 (one) complimentary Red Plate.
TERMS & CONDITIONS FOR SAKAE SUSHI PROMOTION
Promotion: https://www.aeoncredit.com.my/promotions-detail/2507
Related Credit Card