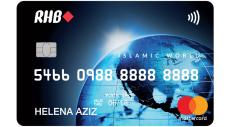 RHB World MasterCard Credit Card-i
Product Benefits
Cash Back
RHB World MasterCard Credit Card-i gives you up to 6% Cash Back per month. Kindly refer to the table below for Cash Back % by spend category:

Tier
Monthly Total Spend (RM)
DOMESTIC LOCAL SPEND
OVERSEAS SPEND
PETROL
TRAVEL
DINING
OTHERS
1
RM1,000 – RM2,499
1%
1%
1%
0.20%
0.50%
2
RM2,500 – RM3,499
2%
2%
2%
0.20%
1%
3
RM3,500 & above
6%
6%
6%
0.20%
2%
Monthly Cash Back Capping
RM30
RM30
RM30
Unlimited
RM100

Cash Back excludes cash advance, charity, government and petrol (oversea) transactions

For the list of Merchant Category Codes (MCCs) which are eligible for Cash Back, please click here

Travel
Get your cash back on all Travel agencies nationwide under the MCC stated in the T&C. Examples:
Hertz, Malaysia Airlines(MAS), Air Asia, Apple Travel, Reliance Travel, And other travel related spending
Petrol
Get your cash back on all petrol stations nationwide under the MCC stated in the T&C. Examples:
Caltex, Petron, Petronas, Shell, All other petrol stations
Dining
Get your cash back on all dining nationwide under the MCC stated in the T&C. Examples:
McDonald's, Madam Kwan's, Secret Recipe, Kenny Rogers, All other dining / restaurants
Plaza Premium Lounge Privileges


- 5x complimentary access in a calendar year to selected Plaza Premium Lounges / Aerotel in Malaysia, thereafter, a discount of 25% off the walk-in rates will be charged from the sixth visit onwards to lounges in Malaysia.
- Exclusive 25% discount at all Plaza Premium Lounges in Malaysia for all accompanying guest.
- Special 20% discount at Plaza Premium Lounges all around the world. (except Shanghai & Beijing)

Lounges' facilities
Complimentary Food & beverages, High speed internet access, Entertainment & Flight Information, Newspapers & magazines, & Shower with amenities

Please refer to the Terms & Conditions for full details & the list of eligible Plaza Premium Lounges for respective RHB Credit Card-i.

Visit https://www.plazapremiumlounge.com/en-uk for the updated Plaza Premium Lounge locations around the world.
Golf Privileges


Enjoy complimentary tee off at the following golf courses:
For the full Terms and Conditions, please refer to RHB Cards Golf Privileges 2019

Golf Clubs
Booking Contact No. / Details
Kota Permai Golf & Country Club, Selangor, Malaysia
RHB Priority Line
+603 9206 1111
Sungai Long Golf & Country Club, Selangor, Malaysia
Penang Golf Club, Penang, Malaysia
Palm Garden Golf Club, Selangor, Malaysia
The Mines Resort & Golf Club, Selangor, Malaysia
Glenmarie Golf & Country Club, Selangor, Malaysia
Tropicana Golf & Country Resort, Selangor, Malaysia
Other Credit Cards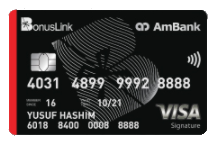 AmBank BonusLink VISA Signature
Minimal Income :
* Citizen
RM6,667.00
Alliance Bank You:nique Card - Rebates
Minimal Income :
* Citizen
RM2000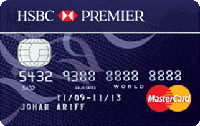 HSBC Amanah Premier World MasterCard-i
Minimal Income :
* Citizen
RM16,500.00