Aeon More Savings Are Coming On the 8 and 28 of Every Month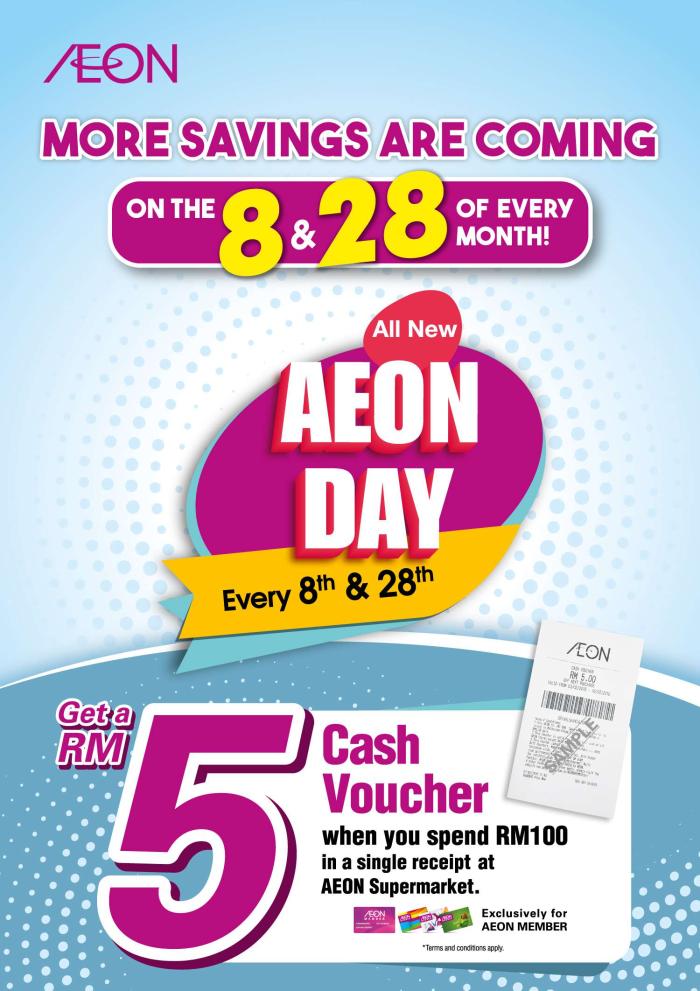 Valid Until
How To Get
This AEON CO. (M) BHD. ("AEON)'s Supermarket Cash Voucher is issued in Malaysian Ringgit with a face value of RM5.00 only ("Voucher")
This Voucher is printed on the purchase receipt with any purchase of Ringgit Malaysia One Hundred (RM100.00) and above spent by a valid AEON MEMBERs in a single receipt at AEON Supermarket* only on 8th and 28th of every month. *Excluding La Boheme, delica, sushi & drink counter, Arena Restaurant, Festive Hampers, Mooncake Vouchers, telephone cards, stamps, cigarettes, household products, kitchen and dining items, DIY products, stationery and sports items.
A MAXIMUM of 20 pieces of this Voucher may be issued in a single receipt.
How To Use
This Voucher is valid within the stipulated periode and no futher extension will be given.
This Voucher is valid for any purchase made at all AEON Stores.
This Voucher must be given to the cashier at the time of payment.
This Voucher cannot be used to purchase any AEON Gift Vouchers, Mooncake Vouchers, telephone cards, stamps, cigarettes, Easy Payment itmes and AEON MEMBER Sign Up/Renewal Fee. This Voucher also cannot be used for purchases made at Arena Restaurant, Molly Fantasy, AEON Wellness, DAISO by AEON, PASAR RAYA MaxValu & AEON Mahkota Cheras.
Only original Voucher(s) is accepted. Any amended, damaged, defaced or photocopied Voucher will be considered as an invalid voucher and will not be replaced.
AEON shall not be held ilable for the loss or damage of this Voucher and any of the losses or damages suffered by the bearer that arise from or in connection with the loss or damage of the Voucher.
This Voucher is not refundable and cannot be exchanged with cash or any other form of legal tender or other AEON Gift Vouchers.
If the purchase is less than the value of this Voucher, no refund shall be made to the bearer of the Voucher. Likewise, if the purchase exceeds the valie of this Voucher, the difference shall be paid by the bearer of the Voucher.
Any exchange or cancellation of any goods purchased shall be subject to AEON's Return Goods Policy and shall be made within purteen (14) days from the date of purchase. In the event that the purchase transaction in Clause 2 did not meet the said minimum purchase requirement after he exchange or cancellation of any goods purchased, the original receipt and the vouchers, shall be returned to AEON, failing which, AEON shall be entitled to dedect the Voucher value from the refund amount or such Voucher shall be treated as invalid.
AEON reserves the right to substitue the Vouchers with those of similar value without any prior notice.
AEON reserves the right to omit, add or amend these Terms and Conditions hereof from time to time without prior notice. Any new or amended Terms and Conditions will supersede the existing Term and Conditions.
The bearer of the Voucher hereby confirms that he/she understands and agrees to be bound by all the above Terms and Conditions and the amended Terms and Conditions (if any).
Related Credit Card