10% OFF 1 pair of footwears at Crocs
(*Promo Expired)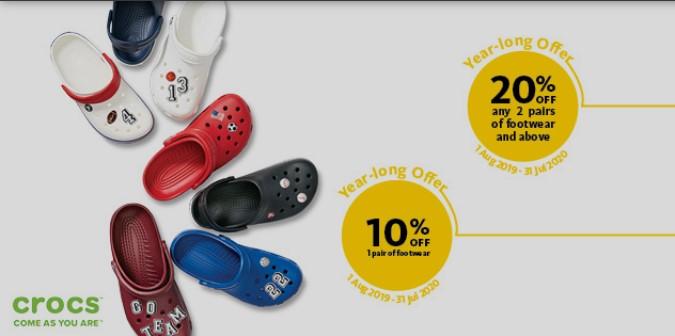 Valid Until 31 Jul 2020
A world leader in innovative, casual footwear, Crocs, Inc. is dedicated to the future of comfort. Our original and most famous style, the Classic Clogs, are instantly recognized around the world, and for good reason: since 2002, we've sold more than 300 million pairs in over 90 countries!
We know that smart doesn't need to mean complicated; we achieved our status as a global leader in the casual footwear category by taking an inherently simple approach to uniting style, modern comfort and value. Every day, we make a choice to have an open mind and look on the bright and colorful side of life. We embrace and celebrate the uniqueness in everyone, inviting the world to Come As You Are.
Fast Facts
Crocs has sold more than 300 million pairs of shoes. That's a lot of shoes!
Crocs™ shoes are sold in more than 90 countries – the brand now does business in more than 30 languages. That means you can spot Crocs whether you are walking the streets of New York City, Hong Kong or London.
Headquartered in Niwot, Colorado, Crocs has more than 4,000 employees globally.
Crocs is traded on the NASDAQ stock market (NASDAQ: CROX).
Crocs has regional offices in Boston, Massachusetts; Amsterdam, Netherlands; Singapore; Seoul, Korea; Tokyo, Japan; Shanghai and Padua, Italy.
Offers
---
Year-long Promotion (till 31 July 2020)
20% OFF any 2 pairs of footwear and above
10% OFF 1 pair of footwears
Related Credit Card